Role of Oct4 in the early embryo development
Received: 17 January 2014
Accepted: 25 April 2014
Published: 29 April 2014
Abstract
Oct4 is a key component of the pluripotency regulatory network, and its reciprocal interaction with Cdx2 has been shown to be a determinant of either the self-renewal of embryonic stem cells (ESCs) or their differentiation into trophoblast. Oct4 of maternal origin is postulated to play critical role in defining totipotency and inducing pluripotency during embryonic development. However, the genetic elimination of maternal Oct4 using a Cre-lox approach in mouse revealed that the establishment of totipotency in maternal Oct4–depleted embryos was not affected, and that these embryos could complete full-term development without any obvious defect. These results indicate that Oct4 is not essential for the initiation of pluripotency, in contrast to its critical role in maintaining pluripotency. This conclusion is further supported by the formation of Oct4-GFP– and Nanog- expressing inner cell masses (ICMs) in embryos with complete inactivation of both maternal and zygotic Oct4 expression and the reprogramming of fibroblasts into fully pluripotent cells by Oct4-deficient oocytes.
Keywords
Oct4
Oct4B
Totipotency
Pluripotency
Embryo
Development
Introduction
Life is like a journey of torch relay. From generation to generation, our bodies vanish at the end of our lives, but the germ cells are passed on to the next generation, ensuring the continuity and prosperity of our species. In comparison with the somatic cells, these germ cells possess many unique properties, of which the expression of Oct4 is the most important as it is required for the survival of primordial germ cells (PGCs) [
1
,
2
].
Oct4
is also expressed specifically in the inner cell mass (ICM) and embryonic stem cells (ESCs), the cells derived from the ICM [
3
]. Interestingly,
Oct4
is expressed in mouse oocytes as a maternal transcript and protein [
1
,
4
–
6
]. As is typical for most maternal mRNAs, levels of
Oct4
mRNA drop dramatically after fertilization [
6
]. Zygotic
Oct4
expression is activated prior to the 8-cell stage, with a significant increase in both mRNA and protein levels [
4
,
6
].
Oct4
expression is abundant and uniform in all cells of the embryo throughout the morula stage. However, as the outer cells of the embryo differentiate into the trophectoderm (TE),
Oct4
expression becomes downregulated and restricted to cells of the ICM in the blastocyst [
5
,
7
,
8
]. When cells of the primitive endoderm differentiate and migrate away from the ectoderm, their Oct4 protein levels transiently increase [
4
]. Oct4 expression then becomes downregulated in the primitive endoderm and maintained in the epiblast, concurrently with embryo implantation and gastrulation.
Oct4
expression finally becomes restricted to PGCs [
9
], which are first specified in the extraembryonic mesoderm at the base of the allantoic bud during gastrulation [
9
]. PGCs give rise to gametes, which can be fertilized to develop into a new fully functional organism of the next generation and complete one cycle of life (Figure
1
).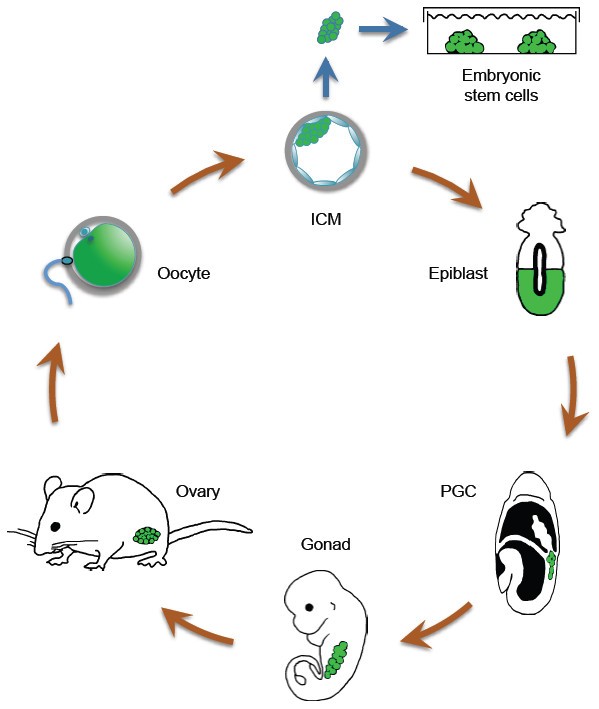 Oct4, encoded by the gene Pou5f1, is a homeodomain transcription factor of the POU (Pit-Oct-Unc) family. The POU family of transcription factors can activate the expression of their target genes through binding to an octameric sequence motif of an ATGCAAAT consensus sequence. Oct4 protein consists of 3 domains: N-terminal domain, POU domain, and a C-terminal domain. The POU domain consists of two structurally independent subdomains: a 75 amino acid amino-terminal POU-specific (POUS) region and a 60 amino-acid carboxyl-terminal homeodomain (POUHD). Both domains make specific contact with DNA through a helix-turn-helix structure and are connected by a linker of 17 amino acids. Regions outside of the POU domain are not critical for DNA binding and exhibit little sequence conservation. The N-terminal domain (N-domain) is rich in Proline and acidic residues, while the C-terminal domain (C-domain) is rich in Proline, Serine, and Threonine residues. Both the N-domain and the C-domain play an important role in transactivation, but the activity of the C-domain is cell type specific and is regulated through phosphorylation, whereas that of the N-domain is not. The Oct4 POU-domain functions differently by serving as an interaction site for binding by cell type–specific regulatory factors [12, 13]. Oct4 has been deemed to be a critical regulator of cellular pluripotency, as shown by a zygotic Oct4-knockout study [14]. Loss of pluripotency in embryos, observed at the onset of somitogenesis, is coincident with reduction of Oct4 and Nanog expression, and can be rescued by ectopic Oct4 expression [15]. Oct4 can activate its own expression with its transcription factor partner Sox2 through a positive autoregulatory loop in ESCs [16]. Studies on Oct4 interaction protein network have revealed that the Oct4 interactome includes many transcription factors and chromatin-modifying complexes with documented roles in self-renewal and pluripotency, and that acute depletion of Oct4 reduces the binding of Tcfcp2l1, Dax1, and Esrrb to target genes [17–19]. Depletion of Oct4 by siRNA leads to reduced binding of two key components of the bone morphogenetic protein (BMP) and leukemia inhibitory factor (LIF) signaling pathways, Smad1 and STAT3, to their respective targets. This result indicates that Oct4 plays a pivotal role in stabilizing the nucleoprotein complex and establishes a hierarchy of regulatory interactions between Oct4, STAT3, and Smad1 [20]. The core components of the pluripotency circuitry are formed by Oct4, Nanog, and Sox2, and Nanog expression is directly regulated by Oct4 and Sox2 [21], Sox2 is actually dispensable for the activation of Oct-Sox enhancers, and the forced expression of Oct4 could rescue Sox2-null ESCs [22]. Hence, Oct4 is considered to be the genetic "master switch" in the establishment of totipotency-pluripotency during the life cycle of mammals [23], and it is presumed to be the most upstream gene in the molecular circuitry of pluripotency [24].
Conclusion
As summarized in Figure
4
, new pieces of evidence clearly indicate that Oct4 is not the master regulator responsible for initiating totipotency-pluripotency in oocytes, and that maternal and zygotic Oct4–null blastocysts maintain the ability to activate Nanog and Oct4-GFP expression, indicating that unknown pathways other than the Oct4-centered pluripotency-regulating network are active in embryos and function upstream of Oct4 in driving pluripotency. However, to date no factors have proven to be essential for Oct4 activation in the preimplantation embryos. Further studies are required to elucidate how oocytes activate the pluripotent genes
Oct4
and
Nanog
on top of the Oct4/Sox2 autoregulatory loop in an effort to understand the establishment of totipotency in zygotes and in transplanted somatic cells.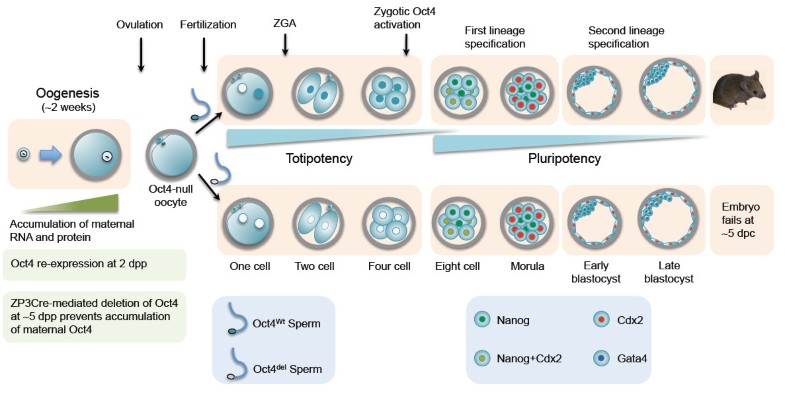 Abbreviations
ICM:

Inner cell mass
ESCs:

Embryonic stem cells
TE:

Trophectoderm
PGCs:

Primordial germ cells
Pit-Oct-Unc:

POU
POUS:

POU-specific
POUHD:

Homeodomain
N-domain:

N-terminal domain
C-domain:

C-terminal domain
BMP:

Bone morphogenetic protein
LIF:

Leukemia inhibitory factor
GV:

Germinal vesicle
ZGA:

Zygotic genome activation
MII:

Metaphase II
SN:

Surrounded nucleolus
NSN:

Not surrounded nucleolus
NT:

Nuclear transfer
PCR:

Polymerase chain reaction
RT-PCR:

Reverse transcriptase PCR
iPSCs:

Induced pluripotent stem cells
DE:

Distal enhancer
PE:

Proximal enhancer
PP:

Proximal promoter
HREs:

Hormone response elements
SF1:

Steroidogenic Factor-1
RXR-Beta:

Retinoid X Receptor-Beta
GCNF:

Germ Cell Nuclear Factor
COUF-TFI/II:

Chicken Ovalbumin Upstream promoter-Transcription Factors- I/II
BRGC:

Brg1-dependent chromatin remodeling complex
Eif4eloo:

Oocyte-specific eukaryotic translation initiation factor 4E
AID:

Activation-induced cytidine deaminase
siRNA:

Small interfering RNA
RNAi:

RNA interference
CRs:

Conserved regions
dpc:

Days post coitum
dpp:

days post partum.
Declarations
Acknowledgements
This research was supported by the Max Planck Society, DFG grant SI 1695/1-2 (SPP1356) and NIH grant R01HD059946-01 from the Eunice Kennedy Shriver National Institute of Child Health & Human Development. We thank Areti Malapetsas for final editing.
Authors' Affiliations
(1)
Department of Cell and Developmental Biology, Max Planck Institute for Molecular Biomedicine, Münster, Germany
(2)
Medical Faculty, University of Münster, Münster, Germany
Copyright
© Wu and Schöler; licensee BioMed Central Ltd. 2014
This article is published under license to BioMed Central Ltd. This is an Open Access article distributed under the terms of the Creative Commons Attribution License (http://creativecommons.org/licenses/by/2.0), which permits unrestricted use, distribution, and reproduction in any medium, provided the original work is properly credited. The Creative Commons Public Domain Dedication waiver (http://creativecommons.org/publicdomain/zero/1.0/) applies to the data made available in this article, unless otherwise stated.