Generation of functional organs from stem cells
Received: 30 October 2012
Accepted: 17 January 2013
Published: 22 January 2013
Abstract
We are now well entering the exciting era of stem cells. Potential stem cell therapy holds great promise for the treatment of many diseases such as stroke, traumatic brain injury, Alzheimer's disease, Parkinson's disease, amyotrophic lateral-sclerosis, myocardial infarction, muscular dystrophy, diabetes, and etc. It is generally believed that transplantation of specific stem cells into the injured tissue to replace the lost cells is an effective way to repair the tissue. In fact, organ transplantation has been successfully practiced in clinics for liver or kidney failure. However, the severe shortage of donor organs has been a major obstacle for the expansion of organ transplantation programs. Toward that direction, generation of transplantable organs using stem cells is a desirable approach for organ replacement and would be of great interest for both basic and clinical scientists. Here we review recent progress in the field of organ generation using various methods including single adult tissue stem cells, a blastocyst complementation system, tissue decellularization/recellularization and a combination of stem cells and tissue engineering.
Keywords
Stem cells
Functional organs
Blastocyst complementation
Decellularization
Recellularization
Tissue engineering
Introduction
Stem cells are undifferentiated cells found in the body which have the ability to continuously divide, self-renew themselves and differentiate into various kinds of cells. With the capability of self-renewal, pluripotency and differentiation, stem cells have been believed to be useful for treatment of a wide variety of diseases in the future, including stroke, traumatic brain injury, Alzheimer's disease, Parkinson's disease, spinal cord injury, baldness, blindness, deafness, wound healing, amyotrophic lateral-sclerosis, myocardial infarction, muscular dystrophy, osteoarthritis rheumatoid arthritis, Crohn's disease, and diabetes. Amongst the applications, a number of adult stem cell therapies have already been practiced clinically. As an example, hematopoietic stem cell transplantation has been successfully applied to treat leukemia.
In addition to cell replacement therapy using stem cells, organ transplantation has been successfully practiced in clinics for organ failure of the liver or kidney. However, the severe shortage of donor organs has become the main obstacle to expand the organ transplant program. Generation of biological or semi-biological organs could be an alternative approach to solve the problem of the donor organ shortage. Notably, researchers have been hunting for ways to establish a whole organ using stem cells.
In recent years encouraging approaches for functional organ generation have emerged. The present manuscript provides an overview of organ generation using a single adult tissue stem cell, a blastocyst complementation system coupled with a specific stem cell niche, a method of decellularization and recellularization of bio-scaffold, and a combinatorial approach of tissue engineering and stem cells.
Conclusions
In summary, as described above, there are four major ways of generation of functional organs using stem cells (Figure
1
). Each of them has its own uniqueness. Specifically, using adult stem cells such as adult tissue epithelial stem cells, there will be a very low risk of tumorigenesis, more selective differentiation capability and better integration into the related tissue mass and acquisition of relevant organ functions. However, the number of the adult tissue stem cells that can be isolated is a limiting factor. Although using blastocyst complementation system is an attractive approach, particularly using a human-porcine inter-species strategy, injection of human stem cells into an organ-deficient porcine embryo is currently forbidden for ethical reasons. In fact, blastocyst complementation across species of large livestock animals such as porcine and canine has not been experimentally proven, more studies are needed in this direction. While the decellularization and recellularization research on various types of organs including the heart, liver, lung, kidney, bladder, etc. has yielded exciting results, but it is not practical to get the donor organs for such approach from the human beings. In addition, the acquisition of the organ functions from these studies is still limited. Tissue engineering using various biomaterial scaffolds holds hopes for particular medical needs such as plastic and reconstructive surgery, however the scaffolds using particular biomaterials are still primitive and require further development and research. Finally, the stem cell types that can be considered to be used for generation of functional organs may include ESC, iPSC and adult tissue cells. Each of these cell types has different advantages and disadvantages, in terms of proliferation, differentiation and tumorigenicity risk, which have been well-discussed in the literature.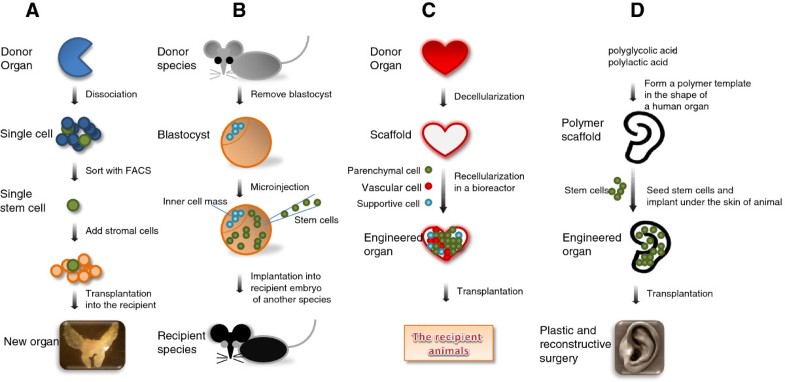 Although organogenesis is a complex process, the organ generation systems described above using stem cells or a combination of stem cells and tissue engineering may be applied, or at least raise the hope, to treat organ failure in humans in the near future. Besides adult tissue stem cells and embryonic stem cells, recent burgeoning and promising development of technology of induced pluripotent stem cells opens a new avenue for potential cell replacement and organ generation. Relevant to generation of functional organs, it is worth-mentioning that functional hepatocyte-like cells can be generated from induced pluripotent stem cells and the liver can be partially reconstituted in Fah−/− mice [20].
Taken together, with the above initial steps and further improvement, stem cell therapy may one day not only repair tissue damage but also generate new tissues for tissue/organ transplantation. Even though it is still at an infancy stage, these studies may hold promise for generation of specific functional organs for organ transplantation, to help solve the clinical problem of donor shortage.
Declarations
Acknowledgements
The study is supported by funds from the Chinese Ministry of Science and Technology (2012CB966800 and 2013CB945600 to WQG and RY and 2012CB967900), the National Natural Science Foundation of China (81130038 to WQG, 31171422 and 31230048 to ZH), Science and Technology Commission of Shanghai Municipality (Pujiang program to WQG, 11PJ1406400 to ZH), Shanghai Education Committee Key Disciplines and Specialties Foundation (J50208 to WQG), Shanghai Health Bureau Key Disciplines and Specialties Foundation (to WQG), KC Wong foundation (to WQG) and the China Postdoctoral Science Foundation (2012M510835 to YYL).
Authors' Affiliations
(1)
State Key Laboratory of Oncogenes and Related Genes, Stem Cell Research Center, Renji Hospital, Shanghai Jiaotong University School of Medicine, Shanghai, China
(2)
Med-X Research Institute, Shanghai Jiaotong University, Shanghai, China
Copyright
© Liu et al.; licensee BioMed Central Ltd. 2013
This article is published under license to BioMed Central Ltd. This is an Open Access article distributed under the terms of the Creative Commons Attribution License (http://creativecommons.org/licenses/by/2.0), which permits unrestricted use, distribution, and reproduction in any medium, provided the original work is properly cited.